Tapping into Podcast: Season 5 Ep 1 Tapping into Crystals and Light Language with Katie Jane Wright
May 15, 2023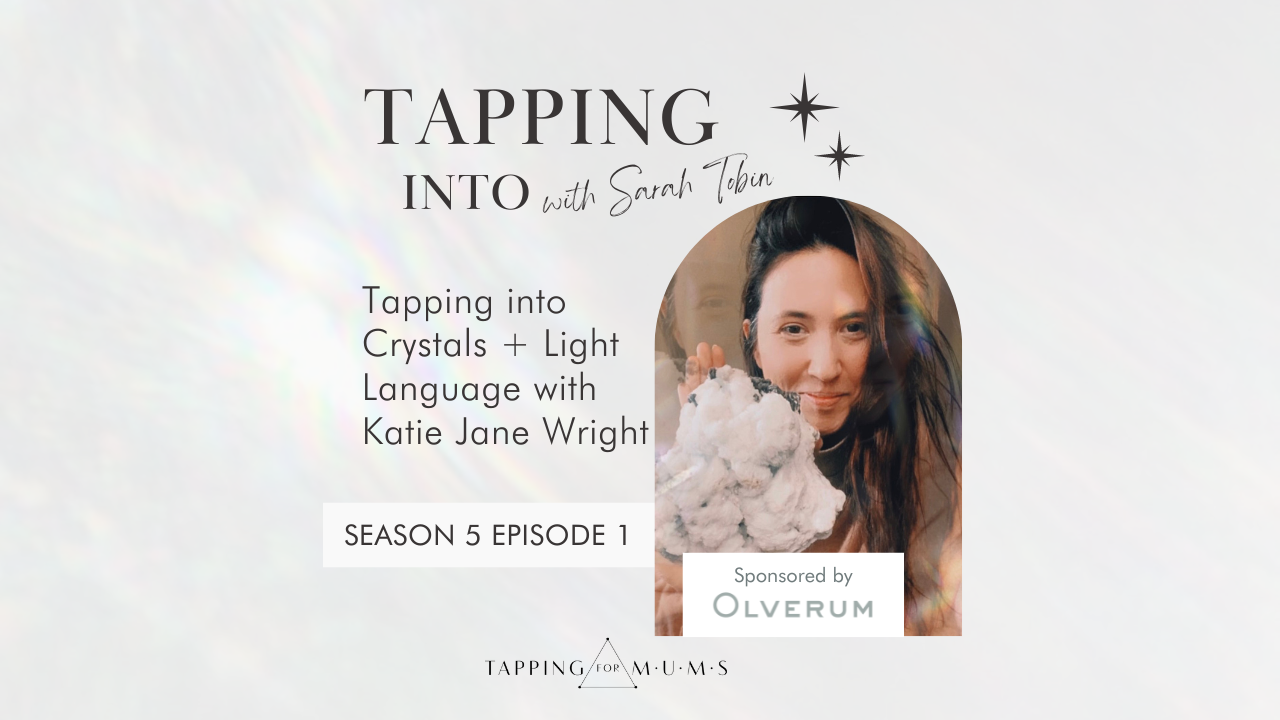 Welcome to Season 5 Episode 1 of the Tapping into Podcast! Whoop!
Proudly sponsored by Olverum. An award-winning, cult beauty and wellbeing brand steeped in ritual, powered by nature, focused on self-care and finessed by science. Pioneers in green beauty since 1931, Olverum create high-performance luxury bath and body products which work to restore your essential you. If you too would like to feel relaxed, restored and renewed, thanks to Olverum, Tapping into podcast listeners can receive an exclusive 20% discount using the code TAPPINGFORMUMS - visit www.olverum.com
To kick off the season, I chat with Katie-Jane Wright who is a dear friend of mine and I am so honoured to talk with her and share her wisdom and activations with you all.
Katie-Jane shares with us her lifelong spiritual awakening from being friends with the spirits as a small child to, as an adult, channelling through her writing and developing a relationship with crystals. Katie-Jane has a profound connection with crystals and encourages us to find our own connection with crystals using our own deep sense of knowing. We think about the energy of different crystals, how to choose a crystal or even how it chooses you. We even hear a sample of Katie-Jane's light language which is very healing and activating. Make sure to have a crystal handy that you can grab when she shows us how to connect with our crystals.
Key takeaways:
Although you can research the properties of a crystal it is important to find how the individual crystal works for you.

You can attune to the vibration of your crystal and its energy field.

When you feel drawn to a crystal it has already chosen you.

We often hear of people charging their crystals by moonlight but sunlight can charge them powerfully too.
About Katie-Jane:
Katie Jane is a ceremonialist and healer, connected deeply to the crystalline and plant kingdoms, a crystal guardian and awakener of ancient wisdom.
She is a published author, and creator of a Conscious crystal book, and 2 oracle decks, 'Spirit and Animal Wisdom' and 'Earth Alchemy' decks.
Living and moving from the heart, she loves to create safe space for women to gather and be, specializing in womb work, conscious conception and connecting families with their spirit babies. She offers Closing of the bones ceremonies and holding circles to honour and mark rites of passage, and transitions.
Katie-Jane helps bring safe ethically sourced crystals and minerals to their new homes, and provides courses on awakening to crystalline energy, workshops, events and retreats. Where she weaves many of her practices with sound, crystals, breathwork, wrapping and guided journey work.
Want to discover more about Katie-Jane?
You can follow her on IG at @andcrystals and her website at www.andcrystals.com and for healing work visit www.katiejanewright.com
About Sarah:
Sarah is an Emotional Freedom Technique (EFT) or Tapping Practitioner and Trainer based in the UK but originally from Dublin, Ireland. After the loss of her daughter Alice, in November 2014, suffering from severe PTSD and anxiety, she became pregnant again. This led her to seek help from a local EFT Practitioner. This technique completely transformed her life and she is now dedicated to supporting as many people as possible to let go of their trauma, grief, limiting beliefs and negative emotions, so they can live a heart-based, joy-filled life.
Sarah has a thriving Tapping into Motherhood Membership + Community with members all over the world - the doors are open right now. Find out more here>
Take her 'Motherhood Self-Care Toolkit Quiz' to find out which part of your life needs some self-care attention. Take the Quiz>
She runs retreats, works with clients 1:1 and is also a Trainer, teaching people to become EFT Practitioners.
Find out more at her at www.tappingformums.com or follow her at www.instagram.com/sarah_tobin